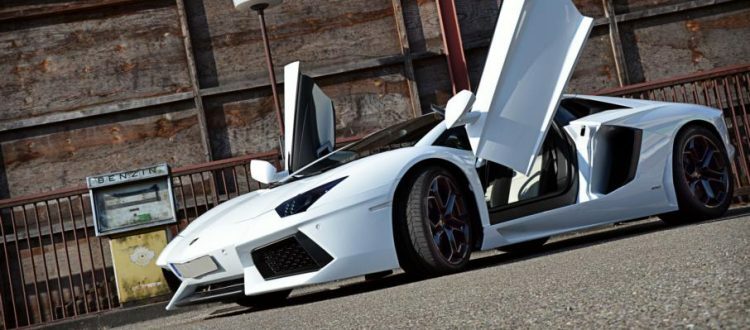 The sports cars of the superstars
The sports cars of the superstars
It is not a surprise that the most expensive sports cars are in the garages of the rich. It does not matter if the owner is a sport, film, or music star with the increase of popularity increases the number of cars on the highway. An overview of social media shows that the superstars do enjoy revealing their sports cars to the audience.
The cars could be exotic and not affordable for everyone. But you can still rent a sports car! If a Ferrari or Bugatti were not enough to attract everyone's attention, superstars also like to paint and cover their sports cars in gold, purple, and all sorts of other eye-catching colours.
In the following, we at DRIVAR® list a few superstars and their very distinctive vehicle fleets, according to a report from BLOGG.de – "The hottest sports cars of the superstars" The same applies to superstars: the faster, the better! But, even the sports cars of the superstars have to bring lots of horse powers on the highway with such a fast-paced lifestyle.
Athletes and their supercars
Several training sessions daily, mostly with high intensity and guaranteed to be exhausting. You might think that professional athletes are looking for something more relaxed when driving so that they can fall into the seat of a G-Class after a long training session. However, if you look at Instagram and Co. you will find a four-wheeled equivalent of the respective sports star, namely a super sports car.
The Irish MMA fighter Conor McGregor, for example, likes to be photographed in and in front of his Lamborghini Aventador, but the BMW I8 also makes a powerful impression. Footballers in particular, who are among the best-paid athletes, usually do not just have a super sports car. Dribble boss in Paris, Neymar likes to drive around in his Ferrari 458 Spider. A former Paris star, Ibrahimovic, is an enthusiastic Maserati driver.
Christiano Ronaldo, 5-time Ballon d`Or winner, and absolute superstar, has a whole garage full of luxury sports cars. His Porsche 911 Turbo S is still the most unimpressive vehicle in our small selection. In addition to his Porsche, he also has super sports cars such as a Ferrari 599 GTO, a Lamborghini Aventador, a Ferrari F12. If that is not enough, there are a Bugatti Veyron and a Bugatti Chiron in his possession. The last two Bugatti sports cars alone have a worth of over five million euros.
The sports cars of the music stars
Even as a musician, if you have gained a reputation, you can live pretty well. Rappers are usually associated with expensive and fast cars. But Lady Gaga also likes fast cars, and her Lamborghini Huracan proves this fact. Justin Bieber, another absolute world star, enjoys being photographed in front of his Audi R8.
One of the most successful musicians in recent years undoubtedly is Drake. The US rapper has a great fleet of vehicles with exotic cars. McLaren 675 LT is a particular feature car of his collection.
Kanye Wes surprised everyone at the Cannes Film Festival with a Mercedes McLaren SLR Stirling Moss. He ruined the appearance of the numerous other stars by arriving in a normal Mercedes SLR.
The biggest eye-catcher is probably 50 Cent with his Lamborghini Aventador in Versace optics. The Lamborghini Aventador seems to be the basic car for superstars. Chris Brown and many other stars are also regularly photographed in this Italian super sports car.
The sports cars of the film and television stars
Similar to the Lamborghini Aventador, the Ferrari F12 Berlinetta also seems to be a popular vehicle. Film star Jason Statham likes to pose in front of his Ferrari like many other media stars.
The Kardashians (Jenner's) are the most famous family in America and have gathered considerable wealth. Of course, this is also evident in the family's fleet. Kylie Jenner is regularly photographed in her turquoise Ferrari 458 Spider, while Caitlyn Jenner drives a purple Porsche GT3 RS. Khloe Kardashian also drives with another Porsche 911 Turbo S.
The British TV chef Gordon Ramsey has achieved cult status through his incredible cooking skills and numerous TV shows. For this reason, the Ferrari La Ferrari Aperta accompanies the world-famous star chef very well.
Finally, the most environmentally friendly superstar is Leonardo DiCaprio in comparison with the gasoline-powered super sports cars of the superstars. Of course, to live up to this reputation you need a special sports car. He found this in the Fisker Karma, a hybrid alternative to the popular pure combustion engines.
Let's summarize!
The bigger the wallet, the greater the lavishness, even among sports cars. But admittedly, most of the superstars have an excellent sense of taste when choosing their cars. The most popular brands are Porsche, Mercedes, Ferrari, Lamborghini, and Bugatti. However, the good taste sometimes ends with the paintwork on some super sports cars, but if you have over 10 cars in your garage, you probably will need the variety in terms of colour.